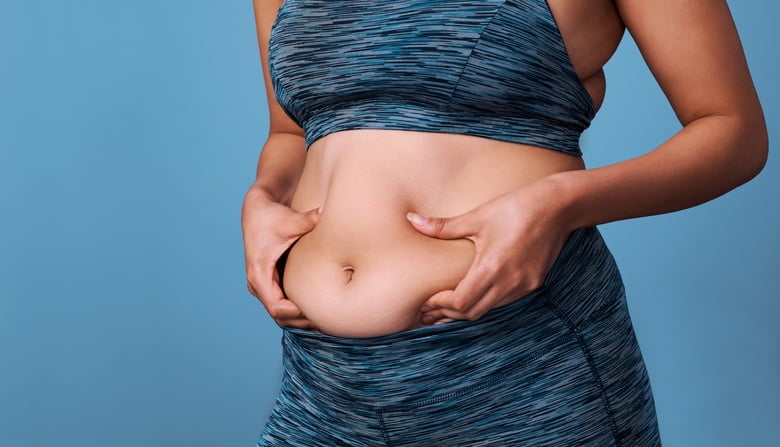 If you overindulged during the holidays and are choosing baggier clothes to hide the rolls around your middle, you're certainly not alone. But the New Year is here and it's a perfect time to commit to looking and feeling better! Fortunately, there are several ways you can reduce belly fat and improve wellness. We offer 6 methods to help take inches off your waistline – from the standard (but with some interesting facts) to non-surgical procedures such as SmartLipo and CoolSculpting.
DIFFERENT TYPES OF BELLY FAT, A COMBINATION OF APPROACHES
Different types of fat exist in the body– brown, white, visceral and subcutaneous. Visceral and subcutaneous fat comprise what we term as "belly fat," and it's the unhealthiest. Visceral fat, in particular, can signal a higher risk for diabetes, stroke, heart disease, cancer and dementia. The good news: Visceral fat tends to respond to diet and exercise. However, approximately 90% of body fat is subcutaneous, and is often resistant to lifestyle changes. SmartLipo and CoolSculpting can help reduce those problem areas. It's the reason we recommend a combination of approaches to reduce belly fat and improve wellness.
1. EXERCISE TO REDUCE BELLY FAT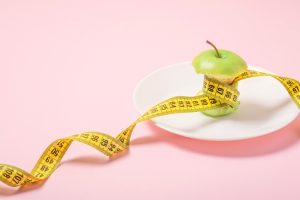 If you think crunches are the answer to reducing belly fat, think again. While they will tighten abdominal muscles, they won't reduce visceral fat. The current recommendation is to engage in at least 30 minutes of moderate intensity aerobic exercise every day (such as brisk walking or bicycling). Incorporating movement into everyday activities (standing while on the phone, for example) and strength training are also shown to help trim your waistline.
2. MAKE DIETARY CHOICES THAT FIGHT BELLY FAT
The standard advice is to eat a balanced diet to maintain a healthy weight. And we can take that a step further – there are clear choices in the wins and losses categories. Good choices: Foods with monounsaturated "healthy" fats: olive oil, nuts and avocados. Foods low on the glycemic scale will help stabilize your body's blood sugar. These counteract insulin spiking hormones and help reduce visceral fat. And one study found that women who consume more calcium tend to gain less visceral fat. Poor choices: Trans fats, a high carb diet and anything with added sugar (for example: high fructose corn syrup, sucrose, glucose, honey).
3. MAKE SLEEP A PRIORITY TO IMPROVE WELLNESS
You might be surprised to see that getting enough sleep helps reduce belly fat. It's true! Hormone regulation and proper sleep are closely tied. One study found that people who sleep 5 hours or less a night gained more abdominal fat over a 5-year period. Sleep loss increases levels of cortisol, ghrelin and leptin, which increases hunger and appetite.
4. BOOST YOUR BODY WITH WELLNESS INJECTIONS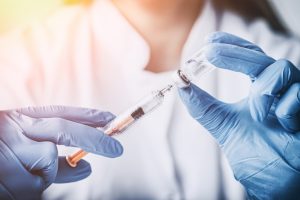 Have you noticed that you're feeling run down? Need a boost of energy? Your body needs a variety of vitamins and minerals to thrive. Getting wellness injections, or vitamin shots, are a quick and easy way to prevent or treat a deficiency. Make them a part of your healthy lifestyle to improve your wellness. Wellness injections can be repeated every 1-2 weeks for the best benefit but receiving them once a month after having a few in your system can be beneficial. The Lumen Center offers a variety of injections to support your healthy eating and sleep goals, including:
The Amino B-12 injection increases natural energy levels, augments red blood cell production, helps regulate sleep, mood and appetite cycles, and boosts the immune system. It also converts fatty acids into energy, allows the body to absorb calcium and forms collagen. Ingredients: Glutamine, Arginine, Lysine, Citrulline, B12
The Lipo-Mino injection kickstarts your weight loss and ramps up your energy! It contains an important mix of amino acids that help your liver more efficiently remove fat and toxins from your body. It promotes hunger control, builds protein/muscle and increases metabolism and energy levels. Ingredients: B6, Methionine, Inositol, Choline, Methylcobalamin, B1, B2 and B12.
The Glutathione injection promotes overall skin health with powerful antioxidants and detoxifiers for every cell in your body. It prevents and reverses the effects of free radicals, rejuvenates your skin and cleanses vital organs. Ingredients: Tripeptide, Cysteine, Glutamic Acid and Glycine.
5. MELT AWAY FAT WITH SMARTLIPO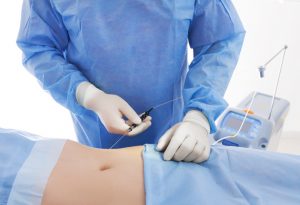 A healthy diet, exercise and sleep hygiene are essential for overall wellness. However, when you lose weight, those fat cells shrink – they never go away. And sometimes the fat, especially in the abdomen, love handles and thighs, lingers despite diet and exercise. SmartLipo can take your efforts to a new level. It is immediate and permanent removal of fat cells using heat from a laser and gentle liposuction. SmartLipo allows you to reduce fat in problem areas and contour your body. This nonsurgical procedure is performed with local anesthesia and only needs freckle-sized incisions. Downtime is minimal, and recovery is typically over a long weekend.
Learn more about SmartLipo and see our patient transformations.
6. FREEZE AWAY FAT WITH COOLSCULPTING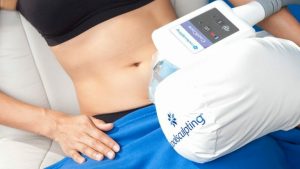 CoolSculpting is another innovative technology that helps reduce those stubborn fat deposits. CoolSculpting technology safely delivers precisely controlled cooling to effectively target the fat cells underneath the skin. The treated fat cells are crystallized (frozen), and then die. Over time, your body naturally processes the fat and eliminates these dead cells, leaving a more sculpted you. The procedure is completely nonsurgical, and you can resume normal activities immediately.
Learn more about CoolSculpting and view our patient transformations.
CoolSculpting and SmartLipo are two effective solutions that permanently remove fat cells. Both are performed in the office, have minimal downtime and proven results. See our side-by-side comparison of CoolSculpting and SmartLipo.
READY TO REDUCE BELLY FAT AND IMPROVE YOUR WELLNESS?
If you want a new, healthy you in 2020, schedule a free consultation at The Lumen Center today. If you have fat that is not responding to diet and exercise, or want a tighter/more toned appearance, we can help you explore nonsurgical options, and discuss the best approach for you. Send us a message or call 610.525.0606 to book your appointment.