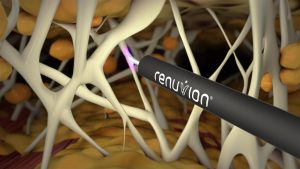 Do you have sagging or loose skin on areas of your body from aging or weight loss? Previously, the only way to remove excess loose skin was through an invasive surgical procedure. Now there is the J-Plasma® treatment, also known as Renuvion®. It's a revolutionary nonsurgical skin tightening procedure that has a unique ability to rejuvenate loose skin practically anywhere on the body. J-Plasma works by mixing helium gas and radiofrequency (RF) waves to produce cool plasma, resulting in healthy and efficient skin tightening. J-Plasma delivers immediate, long-lasting results and requires minimal downtime.
The JPlasma Procedure
Renuvion is an advanced cosmetic surgery procedure that can be used on its own or after SmartLipo as a finishing effect to tighten and tone the skin. The J-Plasma Renuvion and SmartLipo procedures are both minimally invasive and performed using local anesthesia.
First, the handheld j-plasma device is inserted subdermally between the outer layer of skin and the underlying muscles. Next, it delivers helium gas and radiofrequency energy, which converts to helium plasma or plasma energy. Renuvion emits a plasma beam that quickly heats to the ideal temperature to shrink the skin tissue in the targeted areas. Then, the tissue is cooled in less than one second. This method safely and gently tightens loose skin and improves the skin's elasticity even beyond radiofrequency treatments. Renuvion kickstarts the healing and collagen-producing process, and the skin will further tighten over 6-9 months, revealing a more toned and youthful appearance.
Renuvion/J-Plasma for the Body: Abdomen, Legs, Thighs & More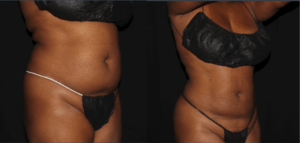 Renuvion has been called "the nonsurgical tummy tuck" for a reason – you'll see superior skin tightening that was previously only achieved with a surgical procedure. However, those invasive procedures leave noticeable scars from large incisions and have a longer recovery time. J-plasma can address loose or sagging skin in a variety of problem areas, including:
Abdomen
Arms
Back
Buttocks
Flanks or love handles
Inner and outer thighs
Legs
After the procedure, we'll place a bandage over the incision sites. Dr. Kwak may also recommend wearing a compression garment to minimize swelling and support optimal healing, depending on the treated area. Recovery is fairly easy after the Renuvion/jplasma procedure, and we'll provide post-care instructions and schedule follow-up appointments to monitor your progress.
Renuvion/J-Plasma for the Face and Neck Tightening
Many patients also consider J-Plasma treatment for skin rejuvenation of the face and neck. It can be used as a standalone skin tightening procedure or in combination with the two minimally invasive facelift procedures for facial contouring we offer at The Lumen Center, Lumen Lift and Lumen Tight. The Lumen Tight is a neck lift that gently removes fat using liposuction and tightens your lower face. The Lumen Lift takes it a step further by harnessing fat and transferring it to the top of your face where volume is needed. Using these procedures in combination with Renuvion J-Plasma produces a smoother, firming, more youthful look of the neck and jawline. If you find you need large amounts of dermal fillers to get a noticeable impact or are needing them more frequently, it might be time to consider the J-Plasma skin tightening procedure with fat transfer.
How Much Does Renuvion with J-Plasma Cost?
Many factors go into pricing for the Renuvion/J-Plasma procedure. It depends on the areas of the body you are targeting and whether liposuction is needed. These factors, and other body goals you may have, are considered when determining the cost of the j-plasma procedure. We'll create a personalized treatment plan to help you achieve your body goals. Our patients consider this procedure life-changing and well worth the price. You'll walk out with more confidence and the body you've always wanted – and that's priceless.
J Plasma Results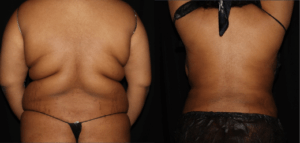 The Renuvion J-Plasma procedure is a single treatment, and patients often notice immediate results that continue to improve over time. You will notice firmer skin after your surgery, and results will improve over the next 6-9 months as collagen production increases. Since the procedure is minimally invasive, recovery time is short – typically over a long weekend. The very small incisions or access points are virtually undetectable. Results are long-lasting, and J-Plasma Renuvion is a very effective method of treating loose skin and restoring a youthful look.
Is J-Plasma Worth It?
Our patients have been incredibly satisfied after their Renuvion/J-Plasma procedure. We encourage you to see the results that have been achieved in our before and after gallery. In addition, there are some factors to weigh when making important decisions about the right procedure and team to help you achieve your body goals.
Seek an Experienced Surgeon & Team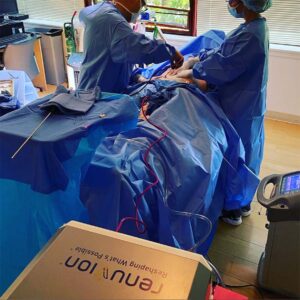 First, it's important to look for an experienced surgeon with technical expertise and artistry. Dr. Andrew Kwak, founder of The Lumen Center, possesses vast expertise in performing thousands of facial and body contouring procedures over nearly 20 years. He has a highly skilled and well-trained team assisting him to ensure you have an exceptional experience from consultation to post-care and recovery.
A Nonsurgical Procedure That Produces Excellent Results
If you have mild or moderate skin laxity but don't want to undergo a surgical procedure to have it removed, J-Plasma Renuvion can help provide the dramatic outcome you are seeking. This advanced technology allows our team to precisely target treatment areas and effectively lift and tighten the skin.
Convenient Skin Tightening Treatment
The quick recovery time also helps you get back to your life sooner, especially compared to traditional liposuction and a surgical tummy tuck. Depending on the size of the area, the procedure takes just 1-2 hours.
Take the Next Step to Achieve Your Aesthetic Goals
Do you want to lift lax skin and firm areas of your face or body? Would you like to have younger, healthier-looking skin? To find out if you are a good candidate for the J Plasma Renuvion treatment, contact The Lumen Center in Bryn Mawr, Pennsylvania at 610.525.0606 to schedule a complimentary consultation.