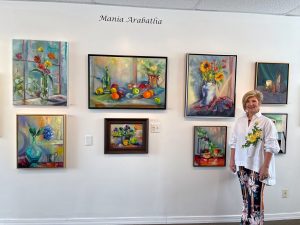 Mania Arabatlian is an award-winning Chester County artist. She graduated from the Aleppo University in Syria, and shortly thereafter moved to the United States in 1984.
Mania has always maintained a dream to pursue her passion: art. At an early age, Mania was known to take her mother's lipsticks and "create" all throughout her childhood home. This early play later developed into serious exploration in art studies. Upon arriving in the United States, Mania studied painting at the Pennsylvania Academy of Fine Arts (PAFA). She continues her studies with local artists in the area, building upon her individual style.
Mania's unique style has earned her awards throughout the tri-state area. Her vision for paintings is to create a new world to explore in each piece. Representational, academic painting is combined with playful, abstracted color, light and form to create these worlds that both delight and inspire.