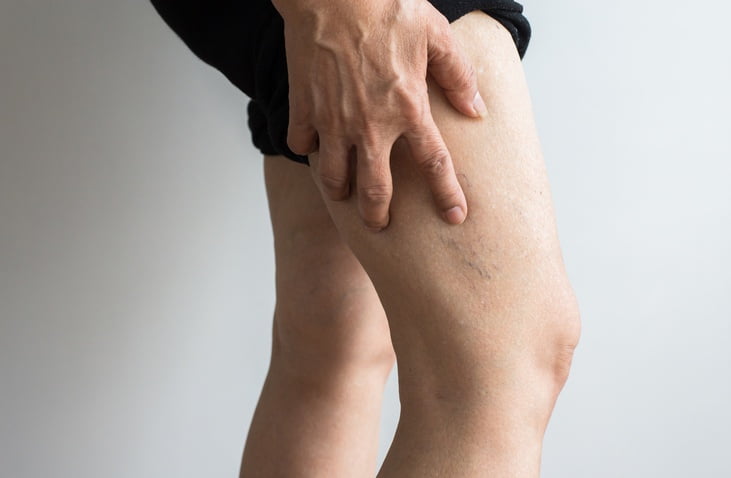 Have you been noticing those unsightly spider veins all summer? If you can't wait for the cooler temperatures to hide your legs in pants or leggings, you're definitely not alone. But instead, plan vein treatment in the fall to take advantage of covering up while your veins fade away. Sclerotherapy does just that – and it's considered the 'gold-standard' treatment for veins. The procedure is minimally-invasive, quick, effective and has no downtime. We discuss how sclerotherapy works so that you can get healthy-looking legs back before next spring. 
Spider Veins – The Good, the Bad and the Ugly
Unfortunately, spider veins (also known as telangiectasias) are a reality of getting older. However, weight gain, sun exposure, genetics and even sitting or standing for too long can bring about spider veins. They look ugly, but the good news is most of the time they are a cosmetic issue and cause no symptoms. However, spider veins could signal an underlying venous disease, so it's best to consult with an experienced physician for a thorough consultation. 
Attack Spider Veins and Their Source with Sclerotherapy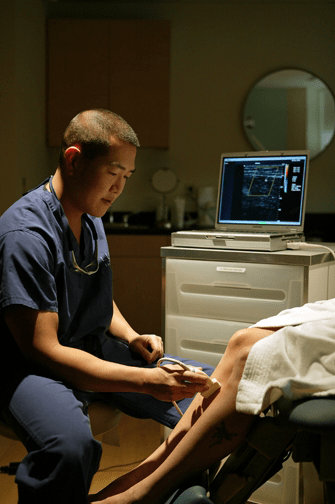 Most people have heard of spider veins, but not reticular veins (also known as "feeder veins"). Reticular veins are slightly larger than spider veins and supply them with blood. Treating the reticular veins brings more success in eliminating branches of spider veins. 
Sclerotherapy is an effective treatment with studies showing that 50%-80% of injected veins may be eliminated in each session. How it works: Using a micro-sized needle, a chemical agent (called a sclerosant) is injected into the vein. It causes damage to the vein lining and it closes. Sclerotherapy is considered minimally-invasive vein removal as the veins are eventually reabsorbed by the body. Blood in the spider and reticular veins is then redirected to other healthy veins. At Lumen, we primarily use two FDA-approved sclerosants: Sotradecol, bestfor largeveins,and Asclera (polidocanol), used for small and moderatelysized veins. 
Sclerotherapy is also a "clean-up" procedure to treat extensive varicose veins in combination with endovenous laser ablation (EVLA). Using an ultrasound to guide sclerotherapy, this technique is used to get rid of root veins with bad valves. 
Reasons to Have Vein Treatment in the Fall
Autumn will soon be upon us! We call it "vein season" because it's the best time of the year to get treatment. Here's why:
After sclerotherapy, bruising is typical in the first 24 hours. It may take 3-4 months for full results to appear and the veins to fade to a point where they are no longer visible. You'll be ready to show off your legs by the time the warmer months come again. 
Compression stockings need to be worn for one week post-treatment. This extra layer is more tolerable as the temperature dips. 
To prevent discoloration, direct exposure to sunlight needs to be avoided for 48 hours after treatment. This directive is much easier to comply with in the fall months.
Veins Be Gone! But When?
A frequent question is, "how long will it take to see results?" While veins initially disappear after injected, they discolor and take time to gradually reabsorb into the body.
For leg spider veins, time to full results depends on the extensiveness of the vein networks. Below is a chart to get an idea; add 2-4 weeks between sessions. 
| | | |
| --- | --- | --- |
| Severity of Vein | Number of Sessions | When to Expect Full Results |
| Mild | 1-3 | 1-3 months |
| Moderate | 3-5 | 3-5 months |
| Severe | 5-10 | Up to 1 year |
Spider Veins: Not Just in the Legs
While those small, web-like purple and blue veins mostly appear on the lower legs and ankles, you might also see them in the hands, breasts and upper torso. And yes, these superficial veins can be sclerosed as well! Reticular veins can also appear in the face around the eyes, nose and temporal region. However, transdermal laser therapy is the safest, most effective way to reduce the appearance of these small, shallow veins on the face.
Expert Care, The Latest Technology and Superior Results at The Lumen Center
Dr. Andrew Kwak, founder of The Lumen Center, brings expertise in minimally-invasive vein treatment as a highly regarded interventional radiologist and cosmetic surgeon. Dr. Kwak has more than 15 years of experience in treating vein issues and has performed thousands of treatments. He uses the latest technology in vein treatment, including a polarized headlamp. This allows for a better, magnified view of the veins to provide a more effective cosmetic result. View our gallery of before and after photos to see the difference sclerotherapy makes.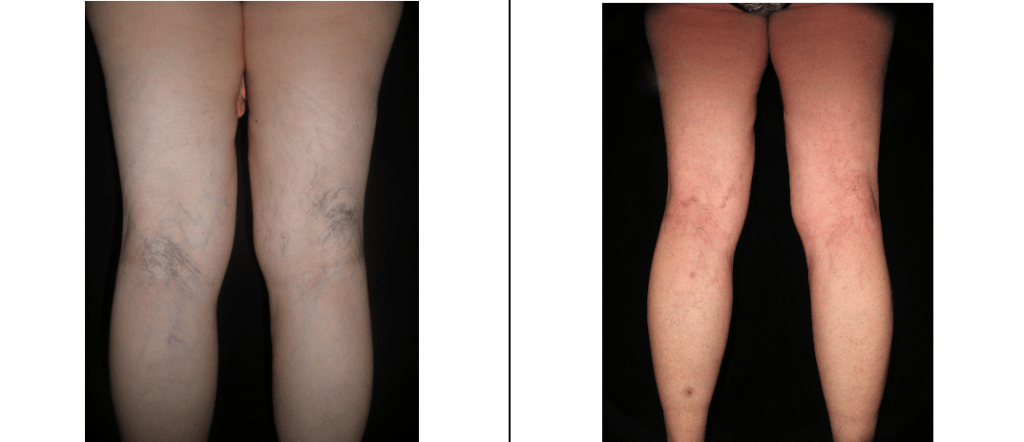 Ready to get youthful looking legs back? Now is the time to schedule your vein treatment in the fall! To book your complimentary consultation, please call us at 610.525.0606.