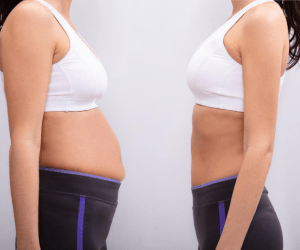 Do you eat right and exercise, but are there certain areas that just don't make the progress you want? For many people, the abdomen is the most common area of focus. Liposuction, specifically Smart Lipo 360, is an effective treatment to target trouble spots – for good. We put together the Patient's Guide to Smart Lipo 360 to help you decide if the procedure is the solution for you.
All Around the Midsection with Smart Lipo 360
Smart Lipo 360 is a laser-assisted, minimally invasive liposuction procedure that eliminates excess fat 360 degrees around your midsection. It can help transform your body for an outstanding and natural-looking result. Areas included in Smart Lipo 360 are your abdomen, flanks (or love handles), and lower back. Smart Lipo, also known as laser liposuction, can also be performed on the neck, chin, arms, thighs, and nearly any other area that has excess fat.
Smart Lipo vs. Traditional Liposuction: What's The Difference?
It's not surprising that liposuction is the #2 plastic surgery procedure in 2018, just behind breast augmentation. But there are two types of liposuction with key differences.
Traditional liposuction requires general anesthesia and is much more invasive than Smart Lipo. Also, traditional liposuction has noticeable scarring and a longer recovery timeline. There is also no skin tightening benefit.
Smart Lipo is considered the gold standard of fat reduction and uses local anesthesia. It's minimally invasive and uses the most innovative technology to achieve optimal body contouring and skin tightening. The incisions are so small and there is little to no scarring. Downtime is minimal, and most people are back to work in 3-4 days.
Smart Lipo 360 Consultation: What To Expect 
Before the Smart Lipo 360 procedure, you will have a consultation with the surgeon to ensure you are a viable candidate. When you arrive, the staff will take pictures of the areas you are looking to sculpt. Then, you and the doctor will discuss your goals and the recommended treatment plan. He or she will also discuss realistic expectations, how to prepare for the procedure, and answer any questions you may have. Your discussion may include lifestyle changes needed, such as quitting smoking and abstaining from alcohol in advance of your procedure. You will be sent home with a packet of information with pre- and post-procedure instructions.
The Day of Your Smart Lipo 360 Procedure
On the day of your procedure, eating a healthy breakfast is a must, as well as wearing comfortable, loose-fitted clothing. You will need to bring your filled prescriptions to the office for further instruction.
The Smart Lipo 360 procedure takes approximately 3 hours, depending on the size of the area. The first step is to numb the treatment areas using a local anesthetic. Once the anesthesia takes full effect, a small (1-3 mm) "freckle mark" incision is made in the skin. A tiny tube, called a cannula, containing a laser fiber is inserted into the layer of fat cells. The probe moves back and forth in the layer of fat and causes the fat cells to burst. The liquified fat is suctioned gently out of the body. The Smart Lipo laser also stimulates the growth of collagen, which continues to tighten your skin for 3-6 months after the procedure. Heat from the laser also results in less bleeding, swelling, and bruising.
SmartLipo 360 Recovery
The recovery process for Smart Lipo 360 is a relatively short one. Patients generally rest for 3-4 days after the procedure and experience minor discomfort, bruising, and swelling. Following post-procedure instructions will help speed recovery time. Compression garments will be provided and are worn for 1-4 weeks. Follow-up appointments ensure that the areas are healing, and your recovery is going as smoothly as possible.
Ready to Look and Feel Your Best with Laser Lipo?
The Guide to Smart Lipo 360 is just the first step on your body contouring journey. If you're ready to schedule a consultation, the expert and compassionate staff at the Lumen Center in Bryn Mawr will help you every step of the way. To book your appointment or learn more, contact us at 610.525.0606.