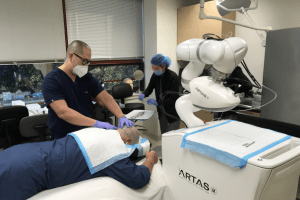 The new hair transplant program ARTAS iX robotic hair restoration procedure at The Lumen Center was recently featured in The Philadelphia Business Journal.
"While robot-assisted surgery systems are probably best known for helping with delicate procedures such as mitral valve repairs and prostatectomies, Dr. Andrew Kwak is using a robot for another type of procedure.
Kwak, founder of The Lumen Center, said his Main Line practice is the first in the Philadelphia area to have a robotic hair transplant system.
Last month, the practice purchased and installed the ARTAS iX robotic hair restoration system.
Kwak, a cosmetic surgeon who specializes in minimally invasive procedures, said he established The Lumen Center in Bryn Mawr in 2005 to offer the latest technology innovations to patients in a physician practice setting."